First off, I must say that I don't like blog awards. They require a great deal of skills in public relations, which I'm not good at. Having said that, I'm sincerely grateful to Juhi, Monica, AlenysWka, Konul and Rina for nominating my blog. Thank you!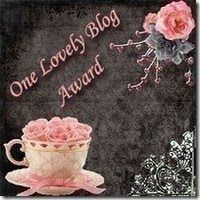 From Rina
In turn, I must pass on these awards to seven blogs of my choice. I'd like to nominate the following excellent blogs:
Some of these blogs are about cardmaking, the main subjects of others is paper quilling, two of them share ideas for children's arts and crafts. I intended to write a few words about each, but then decided that you better go and see yourself, they all deserve at least a bit of your attention. I'll just add that it wasn't easy to choose only seven out of all the wonderful blogs I read.
And finally, according to the rules, 7 facts about me that you might find interesting:
I like cooking very much. Uzbek cuisine is my favorite.
I don't like crowded and noisy parties.
I love nature hikes with my family.
I like animals. When I was a child I had different kinds of pets: tortoises, hamsters, hedgehogs, praying mantises, beetles, etc.
I almost don't watch TV.
I'm a M.Sc. in Telecommunication and Electronic Engineering.
Here you can see what I look like :)